Best Free Web Page Designer 2023
Create your own website for free with an easy wysiwyg web page designer. 10,000+ Free Web Page Templates. Make a beautiful responsive website without coding.
Build any website with professional web page designer
Nicepage is a growing technology offering you powerful web page designer and high-quality templates that match the latest web design trends. Start with over 7,000 web page templates of blocks and pages.
With the Nicepage website designer, you can create the best responsive portfolio, a business website, and blog. Easily customize your website design in the Nicepage web designer to design a multi-purpose, fully responsive, high-quality website for free and with no coding.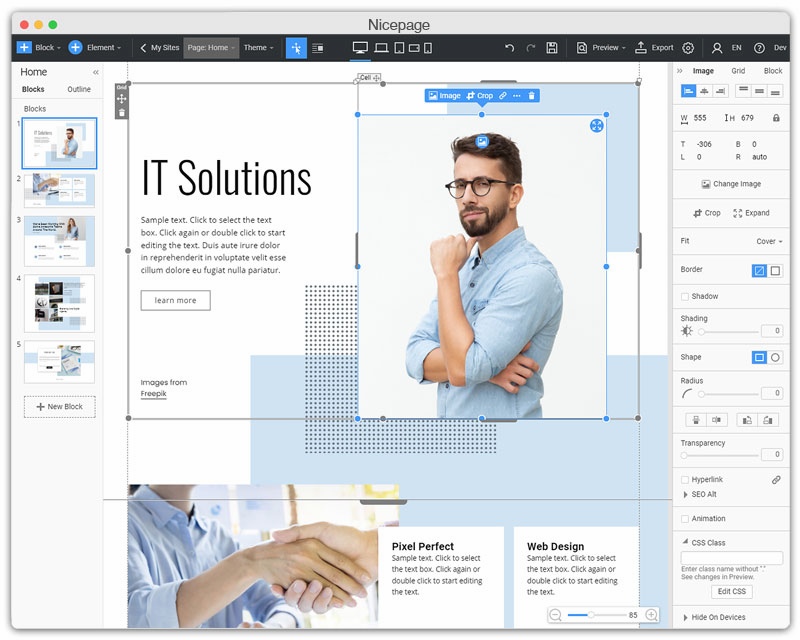 Web Page Design Categories
Easy Template Builder

Download

New Bag Collection

.

Very good photo editing for a custom website by right website designer

Export to HTML and WordPress

Download

10 000+ Website Templates

Download

Fully Responsive Templates

Download

Business Woman

.

Most essential elements to contact with users what they think

Latest Our News

.

Create beautiful graphic designers that bring your vision to life,

Easy Drag and Drop Editor

Download

The Biggest Template Collection

Download

Mobile-Friendly Templates

Download

Building

.

How it works from the user interface design view

Easy Template Builder

Download

Eco City

.

Improve your search engine optimization with SEO tools

Export to HTML and WordPress

Download

10 000+ Website Templates

Download

Free Games

.

Get help for logo design similar to adobe photoshop or adobe xd

Fully Responsive Templates

Download

Our Adventures

.

Including different terms of service and privacy policy

Easy Drag and Drop Editor

Download
Do You Need to Hire a Web Designer?
Do not need hiring a professional web designer to create a nice interface design. Web designer vs builder is important to question web developer jobs. Use the best web design software and create a modern website without having web hosting services. You can use the best web design tools and top website builders for websites and no coding is required. Many great web design tools allow you to build an online store with a better user experience. Creating web pages is not a simple process, do work yourself or a web designer will help in this process. Here you can find the answer to the question, how to build an online store for desktop and mobile devices. Most business owners prefer to download templates than hire a web designer.
It's free to download the template and make a website design, but if you prefer hiring a web designer, you will have to spend money. Email address will not be published on the website if visitors do not want and they can send messages incognito. I can hire a web designer and create my own design of the template. Do not need hiring a web designer, instead use a web design tool and customize all elements what the website needs. Most web designers like to work with modern UI design tools and online design services. Photo editing you can make with the interface design tool, which means that you have the chance to create multimedia online. Web hosting companies offer great web design tool for convenient work. Web design companies, which have professional web designers, make special offers for small business owners.
Web Page Designer to Create Nice Web Design
Web page design is a critical aspect of the development of any website. The landing web design is the first thing, that visitors will see when they go to your site. Popular website templates can offer everything you need to create the best website for an online store, small business company, etc. The authors suggest using the template for the promotion of mobile app but will be suitable for any other advertising tasks. Extremely simple and very charming website design and landing pages make sure good taste and immediately sets the user on the "business" way. The lightweight design looks equally good on computers, mobile gadgets, adapted by visual plugins. These templates provide content control over the system for the site. The template page contains terms of service (for example, how to sign up on the site) that describe how you can use the template. Designers can put their best works on a template to make sure their potential clients buy services, even if they do not need web designers right now.
You should not hire a web designer, only use the best graphic design software and create modern interface design. Transforming the design process with sketch and adobe xd will be more fun. Web designer and web developer sometimes leave their email address on personal websites with the phrase: please, contact me. Web design web pages you can make easily with adobe xd and make a website with motion graphics. Build your site for free with a nice UI design, using an online editor, and what is important, it's free. How much do you want to create an excellent website, depends on many factors, and first of all, start reading related articles about this theme. Years ago digital marketing was not important for companies, but today it is the new temporal part of modern websites and you'll need to use it. We can not say how much do interior designers earn, but You have to pay them a lot. Instead, you can use the design app for UI design and it's free.
Design a Website without Web Designer
Web design software, like adobe xd, helps you to build a design of the site that will be of interest to customers. Graphic design is another important factor for a good site. The best builder will help you quickly design a web page and change the appearance of your site. When using website builders you can see the changes in real-time. The free builder allows you to connect your fonts without coding. Web development is not a complicated process, you just have to know how to do a couple of things and you can handle it yourself. Design a website with design tools that allow you to create your unique template and upload your elements. The best practice for users is that situation when they can skip to the main content because they don't need additional information. It is accepted good manners when you write on the site: "please contact us".
If you want to build a website completely by yourself or just try some variant and see how it would look like, you will need a website builder. If you want to build your site, you can host it on web hosting and it's very cheap. With page builder, you can create an unlimited number of sub-menus. If you are building websites, it is good to use plugins that will further embellish your site. Most popular editors make it easy to design web pages without having to work with source code. For example, I can set up a ready-made web template on my website and customize its elements with content management systems on my own and develop a website. Create a site for free and take as long as you need without custom code, but you can control the cookie policy. The final product of UI design depends on many aspects and for company owners, it is important to have a nice website, for me so.