Summary
Overview
Connect Form to Google Sheets
Submit To Google Sheets In WordPress or Joomla
Publish Your Page
Overview
Google Sheets is a web-based application that allows users to create, edit, and share spreadsheet data online. Nicepage supports populating a spreadsheet with the data submitted from the Contact Form.
This option is available for websites published on Nicepage Hosting from the Desktop application or created directly in the Online Builder.

Connect Form to Google Sheets
To use the Google Sheets application, you need a Google Account. If you do not have a Google account, create it here.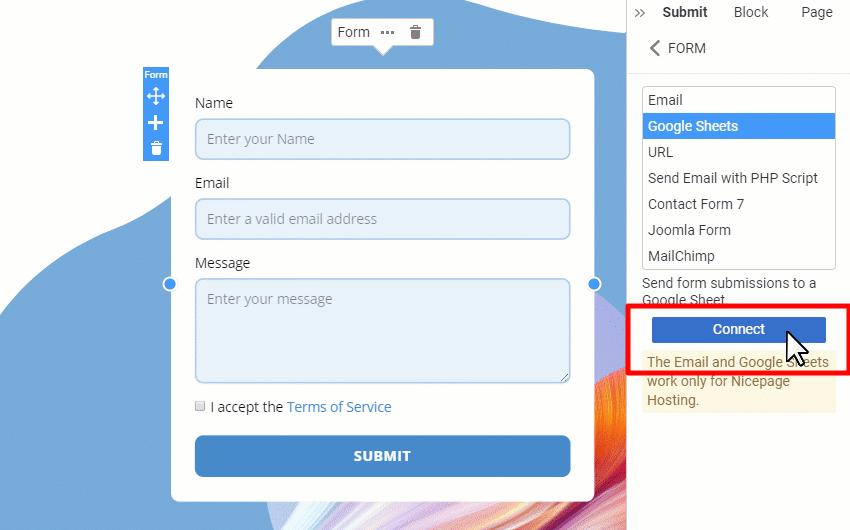 Go to Nicepage Editor >> add the Contact Form element >> select Submit tab on the right-side properties panel >> choose Google Sheets option:
Click "Connect" to connect the Nicepage Form to your Google Account: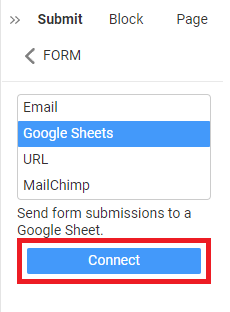 On the next page, choose Google Account. The application will ask for permission to access your Google account. Click "Continue" to allow access: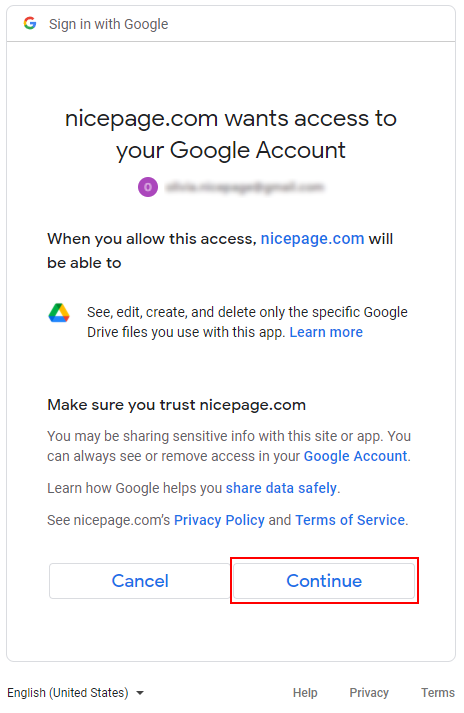 Once the connection is established, a new spreadsheet is created in your Google Drive: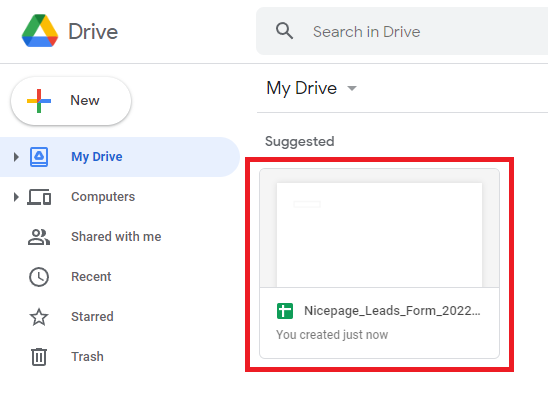 You can check the connection status under the Contact Form properties panel: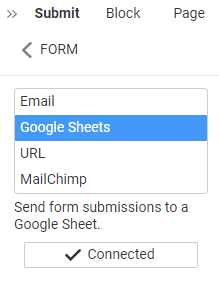 Submit To Google Sheets In WordPress or Joomla
You can submit to Google Sheets from Contact Forms added to WordPress and Joomla sites.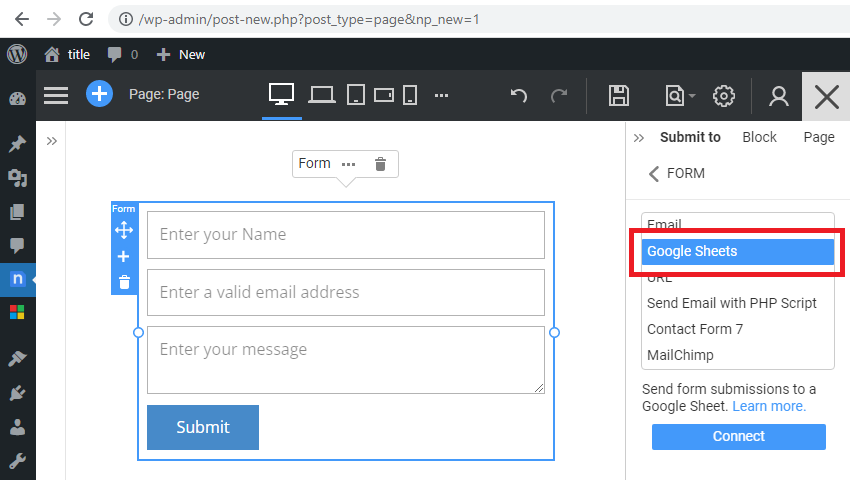 Publish Your Page
Publish the Nicepage page. All data submitted from the Nicepage Contact Form will automatically be added to the spreadsheet.
## Summary - Overview - Connect Form to Google Sheets - Submit To Google Sheets In WordPress or Joomla - Publish Your Page ## Overview Google Sheets is a web-based application that allows users to create, edit, and share spreadsheet data online. Nicepage supports populating a spreadsheet with the data submitted from the Contact Form. !form-submit-google-sheets.jpg! This option is available for websites published on *Nicepage Hosting* from the Desktop application or created directly in the Online Builder. !google-sheets-sheet.png! ## Connect Form to Google Sheets To use the Google Sheets application, you need a Google Account. If you do not have a Google account, create it [here](https://accounts.google.com). !connect-google-sheet.gif! Go to Nicepage Editor >> add the Contact Form element >> select Submit tab on the right-side properties panel >> choose *Google Sheets* option: !google-sheets.png! Click "Connect" to connect the Nicepage Form to your Google Account: !google-sheets-connect.png! On the next page, choose Google Account. The application will ask for permission to access your Google account. Click "Continue" to allow access: !google-sheets-allow.png! Once the connection is established, a new spreadsheet is created in your Google Drive: !google-sheets-leads.png! You can check the connection status under the Contact Form properties panel: !google-sheets-connected.png! ## Submit To Google Sheets In WordPress or Joomla You can submit to Google Sheets from Contact Forms added to WordPress and Joomla sites. !submit-google-sheets-wp.png! ## Publish Your Page Publish the Nicepage page. All data submitted from the Nicepage Contact Form will automatically be added to the spreadsheet. ##