From this article, you will learn how to get started with Nicepage Desktop Application for Windows or Mac OS.
Click these links if you need information about working with the WordPress Plugin or Joomla Extension. You can also learn more about the Online Editor.
Overview
Nicepage is an easy-to-use, drag-and-drop website builder allowing you to create beautiful websites in minutes.
About Nicepage
Download
Installation
Run Application
Add a New Site
Add a New Page
Site Navigation
Add a New Block
Add a Grid
Add Elements
Check Resposive Modes
Publish Website
About Nicepage
Start learning Nicepage by visiting the following pages that will help to start working with Nicepage.
Download Nicepage
Learn how to download the Nicepage Desktop Application.
Go to the Nicepage Download page at https://nicepage.com/download.
Download the Nicepage Application for Windows or Mac OS.
Alternatively, you can get the Nicepage WordPress plugin and Joomla Extension.
Install Nicepage
After the download, click on the saved file to start the installation.
Also, you get more detailed information about how to install the Nicepage Application on Windows and Mac OS.
Run Application
Click the link below to watch the video and read about the Nicepage User Interface, Settings, Theme, Templates, etc. After the installation, the Application starts automatically. If not, please click the Nicepage icon of the Desktop for Windows or in the Applications for Mac OS.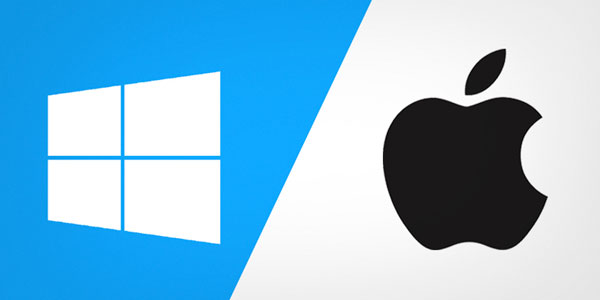 Add a New Site
Go to the Nicepage Dashboard.
You can create, open and manage your Website Projects and pages. The
The Dashboard is similar both in the Desktop and Online Editions.

Add a New Page
On the Nicepage Dashboard, select a website. You can create a new page or click on the Project's Page to open it in the Design Editor.
Site Navigation
Use the Menu, as it is the main Navigation Element of any website. Usually, the Header has a Menu, which is reachable from all site pages. The Menu can contain links to Pages, Blocks on a Page, URLs, and Files.
Add a Block
The Blocks are mainly used in layouts in modern web design. In Nicepage, you can start with a Blank Block or use the Block Presets and Designs. Each Nicepage Block is fully customizable with the Nicepage Design Editor.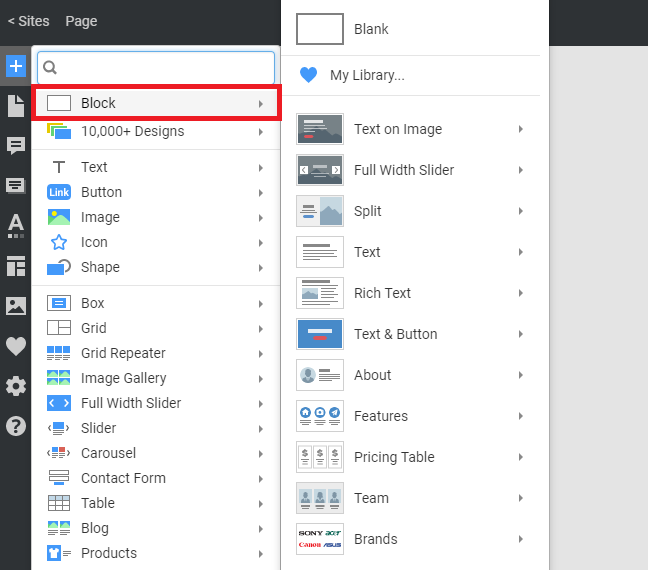 Add a Grid
Use Grids to simplify the working with Mobile Views since Grids automatically allow the Responsive Modes.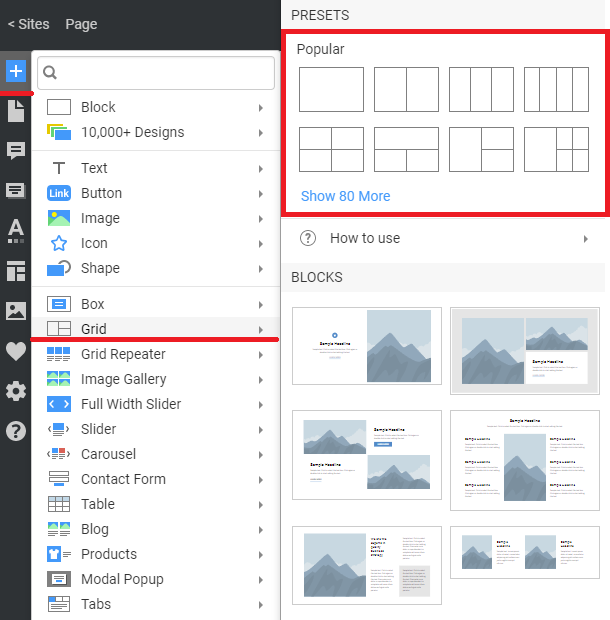 Add Elements
Use various Page Elements to create web design of your web pages with Nicepage.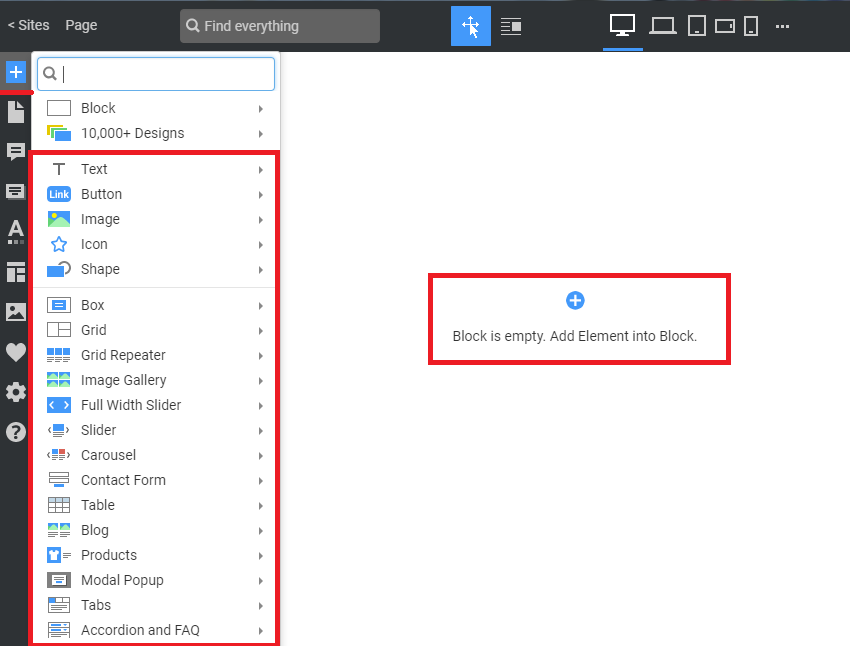 Check Responsive Modes
Today visitors read the website Content mostly on Mobile Devices, so your website should look comfortablу on different mobile screens. Learn the main principles of doing Responsive Web Design fast and efficiently.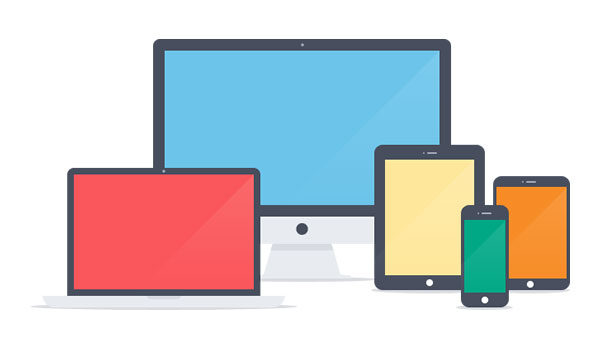 NOTE: Please also learn the Basic Tips for making responsive websites.
How to build responsive webites
Publish Website
Publish websites, for example, to the Nicepage Hosting or as static HTML to upload to your hosting or send to a client. You can also export your as a WordPress Theme or Joomla Template.
Read More
From this article, you will learn how to get started with Nicepage Desktop Application for Windows or Mac OS. Click these links if you need information about working with the [WordPress Plugin](https://nicepage.com/doc/c/wordpress) or [Joomla Extension](https://nicepage.com/doc/c/joomla). You can also learn more about the [Online Editor](page:4726). ## Overview Nicepage is an easy-to-use, drag-and-drop website builder allowing you to create beautiful websites in minutes. - About Nicepage - Download - Installation - Run Application - Add a New Site - Add a New Page - Site Navigation - Add a New Block - Add a Grid - Add Elements - Check Resposive Modes - Publish Website ## About Nicepage Start learning Nicepage by visiting the following pages that will help to start working with Nicepage. <table> <tr> <td style="padding:5px; text-align: center;"><a href="https://nicepage.com/nicepage-review">!features.png!</a><br>[Features](https://nicepage.com/nicepage-review)</td> <td style="padding:5px; text-align: center;"><a href="https://nicepage.com/doc">!documentation.png!</a><br>[Documentation](https://nicepage.com/doc)</td> <td style="padding:5px; text-align: center;"><a href="https://nicepage.com/doc/article/1318/video-tutorials">!videos.png!</a><br>[Tutorials](https://nicepage.com/doc/article/1318/video-tutorials)</td> <td style="padding:5px; text-align: center;"><a href="https://nicepage.com/forum">!forums.png!</a><br>[Forums](https://nicepage.com/forum)</td> <td style="padding:5px; text-align: center;"><a href="https://nicepage.com/download">!download.png!</a><br>[Download](https://nicepage.com/download)</td> <td style="padding:5px; text-align: center;"><a href="https://nicepage.com/premium">!premium.png!</a><br>[Premium](https://nicepage.com/premium)</td> </tr> </table> ## Download Nicepage Learn how to download the Nicepage Desktop Application. 1. Go to the Nicepage Download page at https://nicepage.com/download. 2. Download the Nicepage Application for Windows or Mac OS. ## !download-nicepage-app.png! Alternatively, you can get the Nicepage [WordPress plugin](https://nicepage.com/download) and [Joomla Extension](https://nicepage.com/download). ## Install Nicepage After the download, click on the saved file to start the installation. !download-arrow.gif! Also, you get more detailed information about how to install the Nicepage Application on Windows and Mac OS. 1. [Windows Installation](page:67063) 2. [Mac OS Installation](page:67064) ## Run Application Click the link below to watch the video and read about the Nicepage User Interface, Settings, Theme, Templates, etc. After the installation, the Application starts automatically. If not, please click the Nicepage icon of the Desktop for Windows or in the Applications for Mac OS. [Quick Start On Mac OS](https://nicepage.com/doc/2446/getting-started-on-windows-and-mac) !windows-and-mac.jpg! ## Add a New Site 1. Go to the Nicepage Dashboard. 2. You can create, open and manage your Website Projects and pages. The 3. The Dashboard is similar both in the Desktop and Online Editions. [Working With Sites](page:1020) !create-new-website.png! ## Add a New Page On the Nicepage Dashboard, select a website. You can create a new page or click on the Project's Page to open it in the Design Editor. [Working With Pages](page:1016) !add-new-page.png! ## Site Navigation Use the Menu, as it is the main Navigation Element of any website. Usually, the Header has a Menu, which is reachable from all site pages. The Menu can contain links to Pages, Blocks on a Page, URLs, and Files. [How to use the Menu](page:82280) !site-navigation.png! ## Add a Block The Blocks are mainly used in layouts in modern web design. In Nicepage, you can start with a Blank Block or use the Block Presets and Designs. Each Nicepage Block is fully customizable with the Nicepage Design Editor. [How to work with Blocks](page:89765) !adding-a-block.png! ## Add a Grid Use Grids to simplify the working with Mobile Views since Grids automatically allow the Responsive Modes. [How to use Grids](page:17389) !adding-grids.png! ## Add Elements Use various Page Elements to create web design of your web pages with Nicepage. [How to use Design Elements](https://nicepage.com/doc/c/pages-blocks-and-elements) !adding-elements.png! ## Check Responsive Modes Today visitors read the website Content mostly on Mobile Devices, so your website should look comfortablу on different mobile screens. Learn the main principles of doing Responsive Web Design fast and efficiently. [Responsive web design](page:5249) !responsive-modes.jpg! NOTE: Please also learn the Basic Tips for making responsive websites. [How to build responsive webites](page:36215) ## Publish Website Publish websites, for example, to the Nicepage Hosting or as static HTML to upload to your hosting or send to a client. You can also export your as a [WordPress Theme](page:66707) or [Joomla Template](page:70107). [How to expor an HTML website](page:4123) !export-website.png! ## Read More - [Download Nicepage](https://nicepage.com/download) - [Installation on Windows](page:67063) - [Installation on Mac OS](page:67064) - [Quick Start on Windows and Mac OS](page:2446) - [Getting Started Online](page:1316) - [Quick Review](https://nicepage.com/nicepage-review) - [Documentation](https://nicepage.com/doc) - [Video Tutorials](page:1318) - [Forums](https://nicepage.com/forum) - [Premium Plans](https://nicepage.com/premium) ##