Summary
Overview
Blocks vs. Pages
Block Presets
Block Designs
Boxed / Wide Block Layout
Import Block
Search In Block Designs
Overview
The blocked layout is essential on modern websites, and you can learn to use Blocks in the Nicepage Applications, WordPress Plugin, Joomla Extension, and Online Editor.
Blocks vs. Pages
Before 2010, most web pages had the height of a monitor screen. Each page corresponds to a site's topic, for example, Home, Services, About, Contacts, and others having links from the Menu. You may watch the video about making a Menu with Nicepage.
Today it is not convenient, especially for mobile devices. Many modern websites have such pages merged into one long page. Information on those pages is presented in separate parts called Blocks. Since their first appearance, Blocks have become the main building components of Modern Web Design. And there is the unique "SECTION" tag used to separate Blocks in the HTML.
Building a web page out of Blocks is like building a toy tower with LEGO bricks. You can have links to Pages and Blocks in the Menu for creating a one-page website. Please watch the video about One-Page Website Menu.
Block Presets
You can start with a Blank Block, Block Preset,s or Block Designs. In Nicepage, you can use the Block Presets grouped by their functions, for example, Text on Image, Contact Form, Contacts, Video, and many others.
Run the Nicepage Application for Windows or Mac OS, WordPress Plugin, or Joomla Extension.
Add a New Website.
Add a Block by clicking the button on the Top Bar.
Select any Preset Category.
Add any Block Preset.
Block Designs
Click the Add Block button.
Go to the Block Designs.
There are also over 5000 thousand available Blocks Designs. We add Block Designs every day based on thorough research.
The Block Designs are grouped by their functional and thematic use.
Add any Block Design.
You have added the Block Preset and Block Design to your website.
Boxed / Wide Block Layout
You to quickly choose the Block Width in the Property Panel by clicking the Thumbnails for the Width (W) property.
Import Block
You can use the Import Block operation from the Page's Context Menu, so when there are no Blocks on a Page, you can import a Block without adding an extra Block.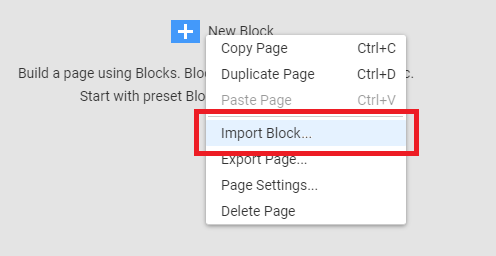 Search In Block Designs
You can use the Search for the Block Designs and choose the Thematic Category.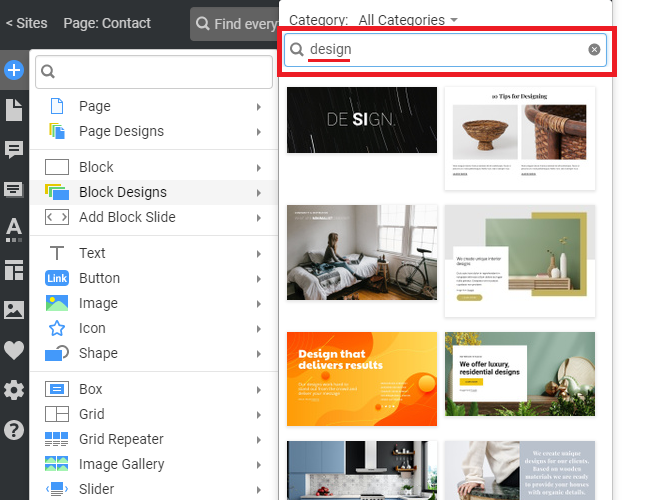 ## Summary - Overview - Blocks vs. Pages - Block Presets - Block Designs - Boxed / Wide Block Layout - Import Block - Search In Block Designs ## Overview The blocked layout is essential on modern websites, and you can learn to use Blocks in the Nicepage Applications, WordPress Plugin, Joomla Extension, and Online Editor. ## <iframe width="600" height="340" src="https://www.youtube.com/embed/ZrJHpPD643w" title="Nicepage Blocks" frameborder="0" allow="accelerometer; autoplay; clipboard-write; encrypted-media; gyroscope; picture-in-picture" allowfullscreen></iframe> ## ## Blocks vs. Pages Before 2010, most web pages had the height of a monitor screen. Each page corresponds to a site's topic, for example, Home, Services, About, Contacts, and others having links from the Menu. You may watch the video about [making a Menu with Nicepage](page:82280). Today it is not convenient, especially for mobile devices. Many modern websites have such pages merged into one long page. Information on those pages is presented in separate parts called Blocks. Since their first appearance, Blocks have become the main building components of Modern Web Design. And there is the unique "SECTION" tag used to separate Blocks in the HTML. Building a web page out of Blocks is like building a toy tower with LEGO bricks. You can have links to Pages and Blocks in the Menu for creating a one-page website. Please watch the video about [One-Page Website Menu](page:84074). ## Block Presets You can start with a Blank Block, Block Preset,s or Block Designs. In Nicepage, you can use the Block Presets grouped by their functions, for example, Text on Image, Contact Form, Contacts, Video, and many others. 1. Run the Nicepage Application for Windows or Mac OS, WordPress Plugin, or Joomla Extension. 2. Add a New Website. 3. Add a Block by clicking the button on the Top Bar. 4. Select any Preset Category. 5. Add any Block Preset. ## !block-categories-reviewed.png! ## Block Designs 1. Click the Add Block button. 2. Go to the Block Designs. There are also over 5000 thousand available Blocks Designs. We add Block Designs every day based on thorough research. 1. The Block Designs are grouped by their functional and thematic use. 2. Add any Block Design. You have added the Block Preset and Block Design to your website. ## Boxed / Wide Block Layout You to quickly choose the Block Width in the Property Panel by clicking the Thumbnails for the Width (W) property. !block-width-icons.png! ## Import Block You can use the Import Block operation from the Page's Context Menu, so when there are no Blocks on a Page, you can import a Block without adding an extra Block. !import-block-in-page-context-menu.png! ## Search In Block Designs You can use the Search for the Block Designs and choose the Thematic Category. !block-design-search.png! ##