Summary
Overview
Custom Domain
Custom Domain Verification
Email Verification
Published Sites On Dashboard
Unpublish Sites
Optimized Publish
Publish Tooltip Arrow
Overview
Publish Websites designed in the Desktop Applications to the Nicepage Hosting and with the Online Editor. The "Publish Website" option is the default for the Publish And Export dialog.
Custom Domain
You can assign a Custom Domain for the published websites.
Custom Domain Verification
Before publishing, you can also check the custom domain assignment in the Publish and Export dialog. The following is an example of an error message.
You can also verify the connection to your custom domain in the Publish Success dialog. If your domain check is successful, you will see the success message.
Email Verification
If your Email for the Contact Form Submission is not verified, and you click the Publish Website button, you will see the dialog offering you to send the confirmation email to get your Contact Form working.
Published Sites On Dashboard
After the site publication, you will see the Icon, Text, and Time on its Site Thumbnail on the Application Dashboard.
Unpublish Sites
After publishing, links in the Publish And Export dialog allow you to unpublish your Website. You can also edit the domain and subdomain using the Desktop Applications.
Optimized Publish
While publishing a website, you export changes made only for a Page or the Site Properties instead of the Project. The process is notably faster from the second publishing, uploading only the differences.
From Nicepage 4.12, the Website Publishing mechanism is optimized for all projects. It makes the publishing of large projects more stable. And if the connection breaks, the publishing restarts from the last breaking point.
Publish Tooltip Arrow
The Arrow and Tooltip remind you about the unpublished changes.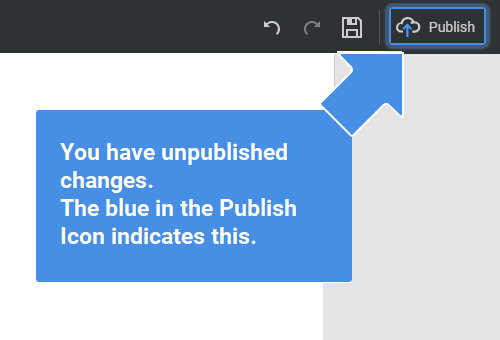 ## Summary - Overview - Custom Domain - Custom Domain Verification - Email Verification - Published Sites On Dashboard - Unpublish Sites - Optimized Publish - Publish Tooltip Arrow ## Overview **Publish Websites** designed in the Desktop Applications to the Nicepage Hosting and with the Online Editor. The "Publish Website" option is the default for the **Publish And Export** dialog. !export-dialog.png! ## Custom Domain You can assign a [Custom Domain](page:1293) for the published websites. !custom-domain.png! ## Custom Domain Verification Before publishing, you can also check the custom domain assignment in the **Publish and Export** dialog. The following is an example of an error message. !check-domain-publish-failure.png! You can also verify the connection to your custom domain in the **Publish Success** dialog. If your domain check is successful, you will see the success message. !check-domain-publish-success.png! ## Email Verification If your Email for the Contact Form Submission is not verified, and you click the Publish Website button, you will see the dialog offering you to send the confirmation email to get your Contact Form working. !verify-email-publishing.png! ## Published Sites On Dashboard After the site publication, you will see the Icon, Text, and Time on its **Site Thumbnail** on the **Application Dashboard**. !published-site-dashboard.png! ## Unpublish Sites After publishing, links in the **Publish And Export** dialog allow you to unpublish your Website. You can also edit the domain and subdomain using the Desktop Applications. !edit-domain-unpublish-site.gif! ## Optimized Publish While publishing a website, you **export changes** made only for a Page or the Site Properties instead of the Project. The process is notably faster from the second publishing, uploading only the differences. From [Nicepage 4.12](page:271235), the Website Publishing mechanism is optimized for all projects. It makes the publishing of large projects more stable. And if the connection breaks, the publishing restarts from the last breaking point. ## Publish Tooltip Arrow The Arrow and Tooltip remind you about the unpublished changes. !publish-arrow.png! ##