Summary
Freehand Positioning
10000+ Page And Block Designs
Available for Windows, Mac OS, and online
Export to HTML, for WordPress and Joomla
Build Themes
Mobile-Friendly Websites
Animation Effects
Video Background
Modern Grid Layouts
Free and Stock Image Library
and more
Nicepage is available for Windows, and Mac OS, as a WordPress Plugin and a Joomla Extension. Nicepage is also available online, and you can create a website and assign a custom domain. For Artisteer users, we provide up to a 50% discount.
Freehand Positioning
Nicepage allows the creation of almost any modern web design. After a thorough analysis of thousands of the trendiest web designs on Pinterest, Behance, and Dribbble, we have created the new tool, Nicepage, to cover mainly the latest web design trends. The traditional approach in website building does not allow matching those modern Web Design trends.
Read more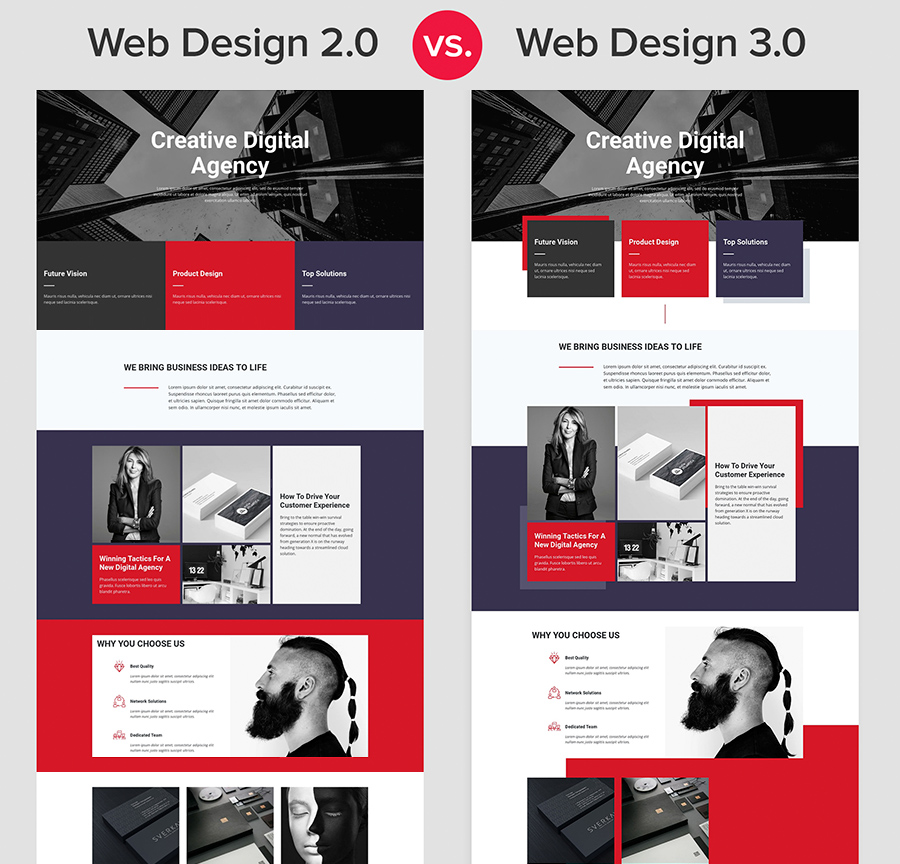 10000+ Blocks and Page Designs
Nicepage comes with the biggest collection of the ready-to-use site and block templates. See all templates.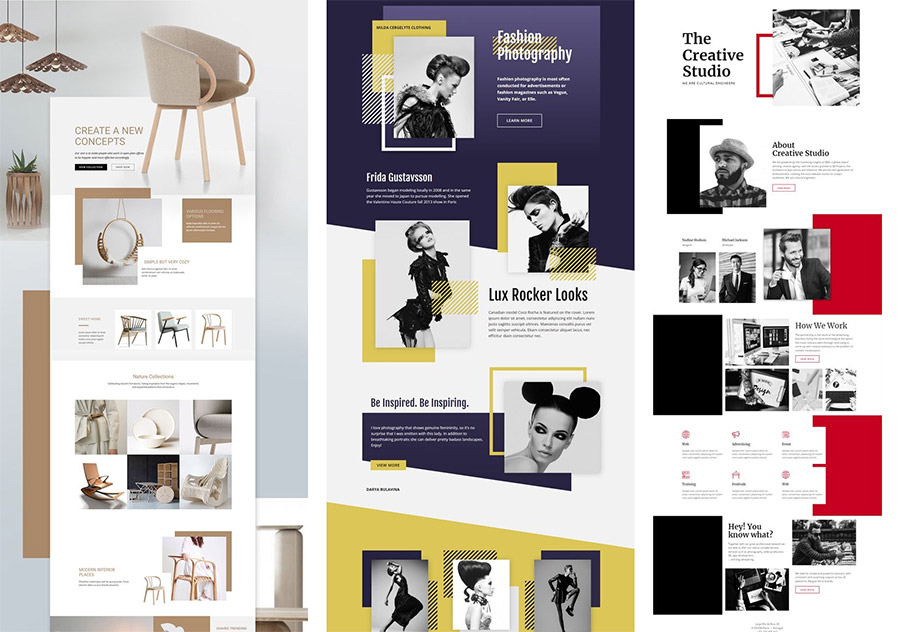 We have selected the most popular Blocks, fully responsive and ready-to-use on any website.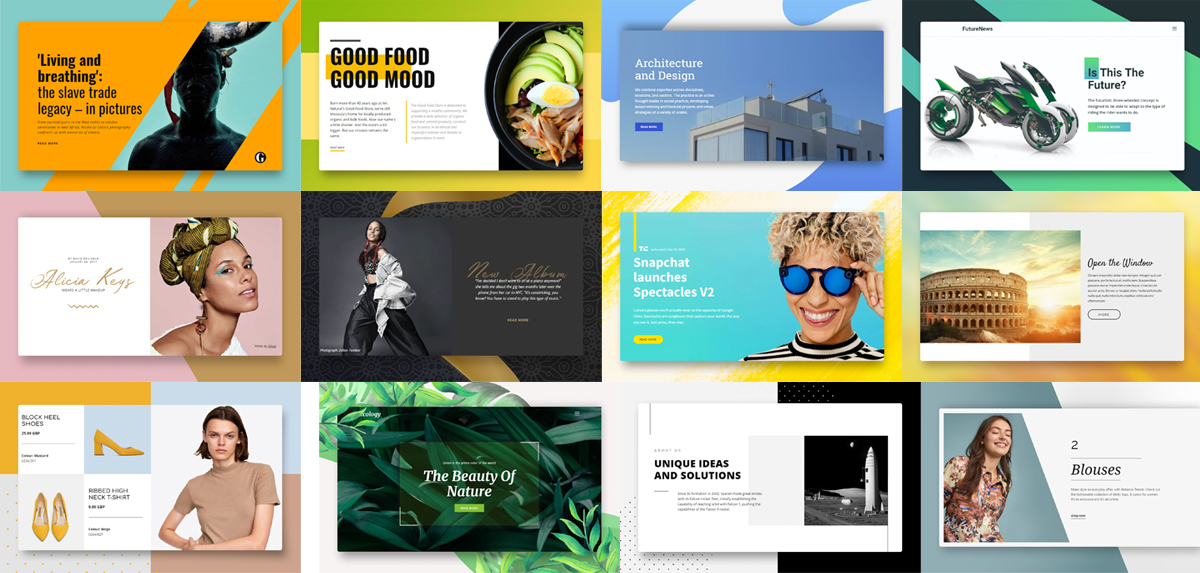 Export To HTML, Joomla, And WordPress
Export projects as a zip or a folder. Save for WordPress, Joomla!™, HTML, or as an image for presentations.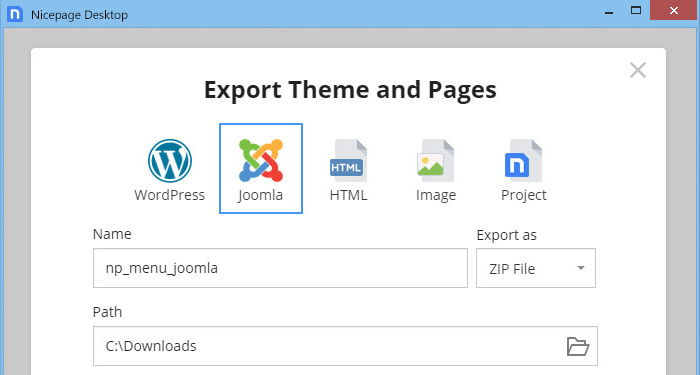 Work on Windows, Mac OS, Joomla, WordPress, and Online
Design awesome Windows and Mac OS websites, Joomla Extension, and WordPress Plugin or run online.

Intuitive Freehand Editing
Design and customize your design with our revolutionary freehand Editor. It is intuitive, visual, easy-to-use, freehand, and drag-and-drop. Using Nicepage is similar to working in Microsoft PowerPoint, Apple Keynote, and professional design systems like Adobe Photoshop and Adobe XD.
For more, please watch Nicepage video tutorials.
Build Themes
Design the trendiest themes and templates. Specify Colors, Fonts, Typography, Header, Footer, Blog, and Post Templates for your themes.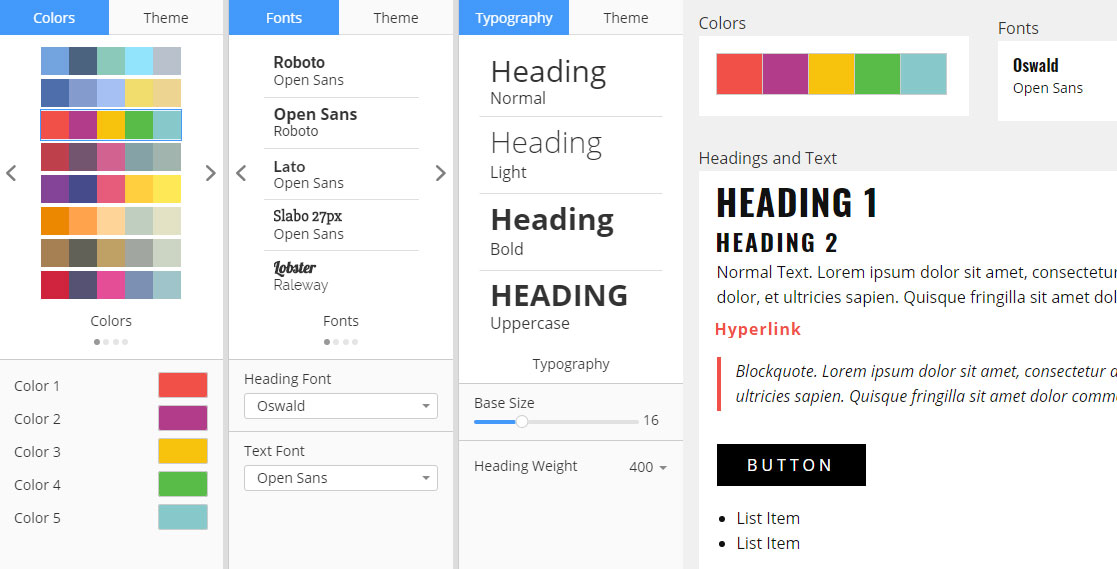 Mobile-Friendly Websites
Build Responsive Web Designs easily. Allow your website visitors to read the content comfortably on all modern screens. Learn more
Nicepage pages are not only mobile-friendly but displayed correctly in all Mobile Views.

Animation Effects
Apply animation and motion to Nicepage controls. The Animation triggers page load, scroll and slide change. The list of Animation effects includes basic animations like Swing, Jello, and many others, including motion animation like Slide or Fade. Motion animation reacts to page scroll and sliding.
Video Backgrounds
Add videos as background to Blocks, Groups, and Cells.
Magnetic Guides
Align your objects easily with the Magnetic Guides. See the distances in the boxes while dragging and dropping.
All Blocks You Need and More
Select Blocks and Designs right for your data: Introduction, Features, Team, Map, Contact, etc.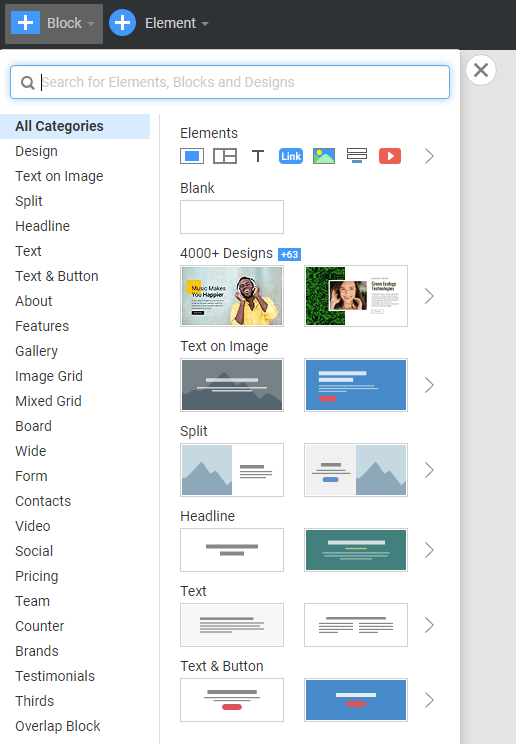 Easily search and filter Block styles and categories.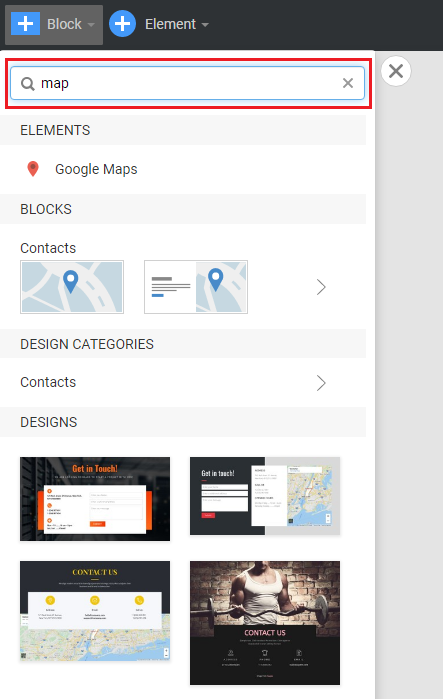 Modern Grid Layouts
Create Blocks with any fancy grid structure
100+ Preset Grid Layouts
Use the Grid to place your images and text. Get the responsiveness automatically.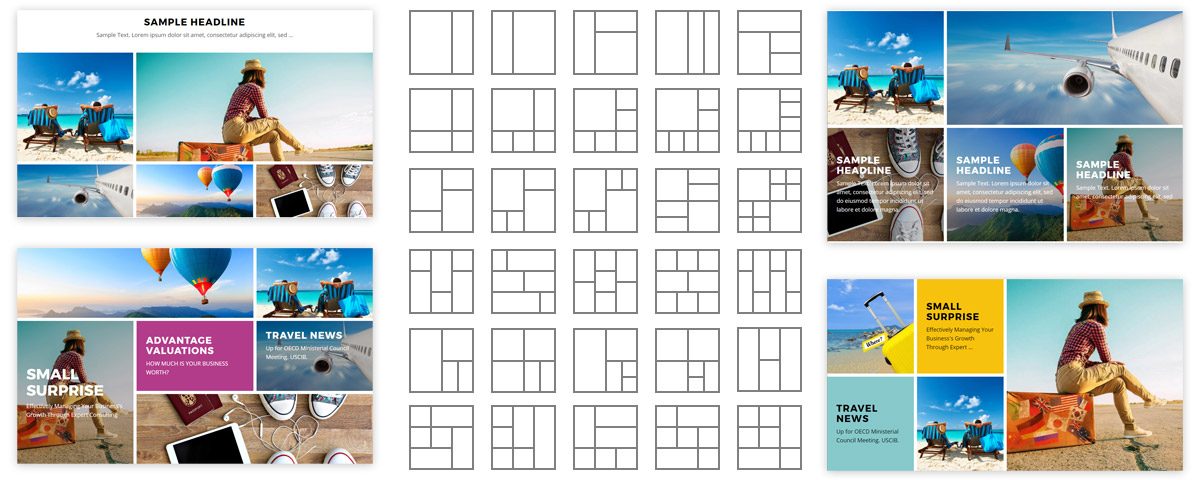 Editor Review
Move Blocks Easily
Switch Blocks position in the Page Navigator to the left.
Resize Blocks
Naturally, modify Block Height in the Editor.
Flexible Group
Use Groups to organize your Headings, Texts, Buttons, Shapes, Images, and other Elements.
Intuitive Properties
Customize any Group or Element by tuning the parameters up to your web design expectations realizing your precious ideas.
Handy Multi-Select
Select multiple objects to move and align easily.
Proportional Resize
Resize your images proportionally and as a square easily and fast.
Image Fit And Expand
Fit the images to your designs and backgrounds. Expand and collapse images. Find the best image crop suiting your web design the best.
Dashboard And Pages
Create websites with many web pages, or build a one-page landing page.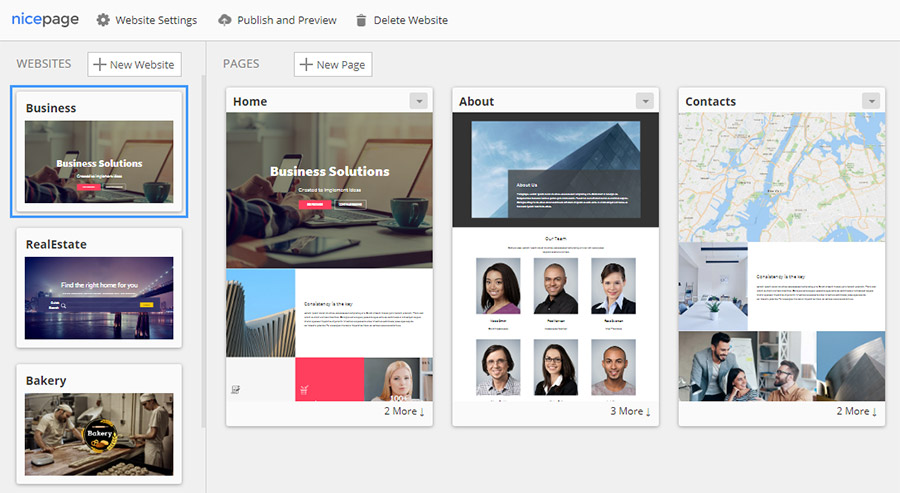 3M+ Media Library
Get high-resolution and high-quality free and stock images. We are among the top 10 contributors at Adobe Stock, former Fotolia, and Shutterstock. Also, you can use 1,700,000 free photos.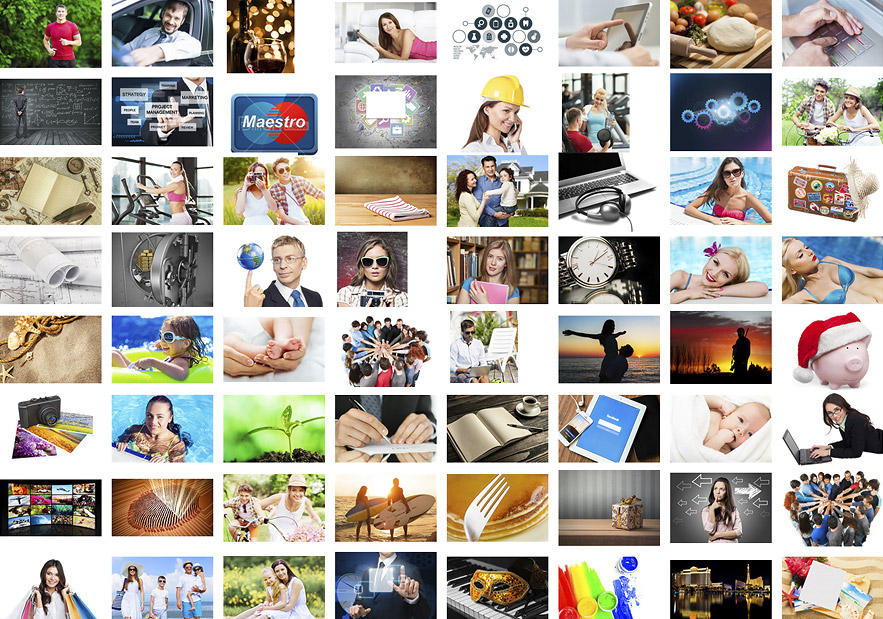 ## Summary - Freehand Positioning - 10000+ Page And Block Designs - Available for Windows, Mac OS, and online - Export to HTML, for WordPress and Joomla - Build Themes - Mobile-Friendly Websites - Animation Effects - Video Background - Modern Grid Layouts - Free and Stock Image Library - and more Nicepage is available for Windows, and Mac OS, as a WordPress Plugin and a Joomla Extension. Nicepage is also available online, and you can create a website and assign a custom domain. For Artisteer users, we provide up to a 50% discount. ## Freehand Positioning Nicepage allows the creation of almost any modern web design. After a thorough analysis of thousands of the trendiest web designs on Pinterest, Behance, and Dribbble, we have created the new tool, Nicepage, to cover mainly the latest web design trends. The traditional approach in website building does not allow matching those modern Web Design trends. [Read more](/doc/article/26554/) !wd20vs30.jpg! ## 10000+ Blocks and Page Designs Nicepage comes with the biggest collection of the ready-to-use site and block templates. [See all templates](https://nicepage.com/templates). !nicepage-designs.jpg! We have selected the most popular Blocks, fully responsive and ready-to-use on any website. !sections.jpg! ## Export To HTML, Joomla, And WordPress Export projects as a zip or a folder. Save for WordPress, Joomla!™, HTML, or as an image for presentations. !export.jpg! ## Work on Windows, Mac OS, Joomla, WordPress, and Online Design awesome Windows and Mac OS websites, Joomla Extension, and WordPress Plugin or run online. !work.jpg! ## Intuitive Freehand Editing Design and customize your design with our revolutionary freehand Editor. It is intuitive, visual, easy-to-use, freehand, and drag-and-drop. Using Nicepage is similar to working in Microsoft PowerPoint, Apple Keynote, and professional design systems like Adobe Photoshop and Adobe XD. For more, please watch [Nicepage video tutorials](https://nicepage.com/doc/article/1318/video-tutorials). <video loop="loop" autoplay="" muted="" playsinline="" style="border-radius: 4px; border: 1px solid #dedede; max-width: 100%;"> <source src="//resources.nicepage.com/828/19828/freehand.mp4" type="video/mp4" /> </video> ## Build Themes Design the trendiest themes and templates. Specify Colors, Fonts, Typography, Header, Footer, Blog, and Post Templates for your themes. !theme-settings.jpg! ## Mobile-Friendly Websites Build Responsive Web Designs easily. Allow your website visitors to read the content comfortably on all modern screens. [Learn more](https://nicepage.com/doc/article/5249/) <video loop="loop" autoplay="" muted="" playsinline="" style="border-radius: 4px; border: 1px solid #dedede; max-width: 100%;"> <source src="//resources.nicepage.com/322/16322/responsive.mp4" type="video/mp4" /> </video> Nicepage pages are not only mobile-friendly but displayed correctly in all Mobile Views. !responsive.jpg! ## Animation Effects Apply animation and motion to Nicepage controls. The Animation triggers page load, scroll and slide change. The list of Animation effects includes basic animations like Swing, Jello, and many others, including motion animation like Slide or Fade. Motion animation reacts to page scroll and sliding. <video loop="loop" autoplay="" muted="" playsinline="" style="border-radius: 4px; border: 1px solid #dedede; max-width: 100%;"> <source src="//resources.nicepage.com/948/18948/animation-example.mp4" type="video/mp4" /> </video> ## Video Backgrounds Add videos as background to Blocks, Groups, and Cells. <video loop="loop" autoplay="" muted="" playsinline="" style="border-radius: 4px; border: 1px solid #dedede; max-width: 100%;"> <source src="//resources.nicepage.com/647/19647/video-bg.mp4" type="video/mp4" /> </video> ## Magnetic Guides Align your objects easily with the Magnetic Guides. See the distances in the boxes while dragging and dropping. <video loop="loop" autoplay="" muted="" playsinline="" style="border-radius: 4px; border: 1px solid #dedede; max-width: 100%;"> <source src="//resources.nicepage.com/286/16286/magnetic-guides.mp4" type="video/mp4" /> </video> ## All Blocks You Need and More Select Blocks and Designs right for your data: Introduction, Features, Team, Map, Contact, etc. !add-block.png! Easily search and filter Block styles and categories. !block-search.png! ## Modern Grid Layouts Create Blocks with any fancy grid structure <video loop="loop" autoplay="" muted="" playsinline="" style="border-radius: 4px; border: 1px solid #dedede; max-width: 101%;"> <source src="//resources.nicepage.com/650/19650/grid.mp4" type="video/mp4" /> </video> ## 100+ Preset Grid Layouts Use the Grid to place your images and text. Get the responsiveness automatically. !grids.jpg! ## Editor Review ### Move Blocks Easily Switch Blocks position in the Page Navigator to the left. <video loop="loop" autoplay="" muted="" playsinline="" style="border-radius: 4px; border: 1px solid #dedede; max-width: 100%;"> <source src="//resources.nicepage.com/740/19740/section-move.mp4" type="video/mp4" /> </video> ### Resize Blocks Naturally, modify Block Height in the Editor. <video loop="loop" autoplay="" muted="" playsinline="" style="border-radius: 4px; border: 1px solid #dedede; max-width: 100%;"> <source src="//resources.nicepage.com/657/19657/section-resize.mp4" type="video/mp4" /> </video> ### Flexible Group Use Groups to organize your Headings, Texts, Buttons, Shapes, Images, and other Elements. <video loop="loop" autoplay="" muted="" playsinline="" style="border-radius: 4px; border: 1px solid #dedede; max-width: 101%;"> <source src="//resources.nicepage.com/746/19746/container.mp4" type="video/mp4" /> </video> ### Intuitive Properties Customize any Group or Element by tuning the parameters up to your web design expectations realizing your precious ideas. <video loop="loop" autoplay="" muted="" playsinline="" style="border-radius: 4px; border: 1px solid #dedede; max-width: 100%;"> <source src="//resources.nicepage.com/421/16421/property-panel.mp4" type="video/mp4" /> </video> ### Handy Multi-Select Select multiple objects to move and align easily. <video loop="loop" autoplay="" muted="" playsinline="" style="border-radius: 4px; border: 1px solid #dedede; max-width: 100%;"> <source src="//resources.nicepage.com/229/16229/multi-select.mp4" type="video/mp4" /> </video> ### Proportional Resize Resize your images proportionally and as a square easily and fast. <video loop="loop" autoplay="" muted="" playsinline="" style="border-radius: 4px; border: 1px solid #dedede; max-width: 100%;"> <source src="//resources.nicepage.com/231/16231/proportional-resize.mp4" type="video/mp4" /> </video> ### Image Fit And Expand Fit the images to your designs and backgrounds. Expand and collapse images. Find the best image crop suiting your web design the best. <video loop="loop" autoplay="" muted="" playsinline="" style="border-radius: 4px; border: 1px solid #dedede; max-width: 100%;"> <source src="//resources.nicepage.com/239/16239/image-crop-expand.mp4" type="video/mp4" /> </video> ## Dashboard And Pages Create websites with many web pages, or build a one-page landing page. !page.jpg! ### 3M+ Media Library Get high-resolution and high-quality free and stock images. We are among the top 10 contributors at Adobe Stock, former Fotolia, and Shutterstock. Also, you can use 1,700,000 free photos. !stock-images.jpg! ##