Use the Nicepage Dashboard to open and manage your website and its pages in few clicks.
Add Page
To add a new Page, click the New Page Button on the Dashboard.
Follow the steps of Page Wizard to create another page or close the window at any moment.
Change Page Order
To change the order of pages, drag the page with the mouse to the desired location.
If you are in the Editor, click on the arrow icon in the top right corner to return to the Dashboard.
To switch between pages, select the desired page in the Pages list:
Edit Page
Click on the Page Thumbnail to open the Page Editor.
Rename Page
Double-click on the current page name to rename the page:
Duplicate or Delete Page
You can easily Duplicate and Delete the page as well as access the Page Settings as shown below. It is also an alternative way to Edit or Rename any of created pages:
Import Block In Page Context Menu
You can use the Import Block operation from to the Page's Context Menu, so when there are no Blocks on a Page, you can import a Block without adding an extra Block.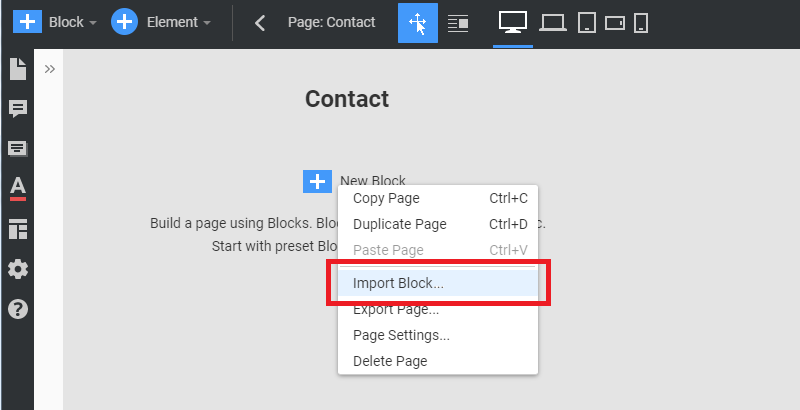 Use the Nicepage Dashboard to open and manage your website and its pages in few clicks. ## Add Page To add a new Page, click the New Page Button on the Dashboard. !np-pages-1.png! Follow the steps of [Page Wizard](page:1021) to create another page or close the window at any moment. !np-pages-2.png! ## Change Page Order To change the order of pages, drag the page with the mouse to the desired location. !np-pages-3.png! If you are in the Editor, click on the arrow icon in the top right corner to return to the Dashboard. !np-pages-4.png! To switch between pages, select the desired page in the Pages list: !np-pages-5.png! ## Edit Page Click on the Page Thumbnail to open the Page Editor. ## Rename Page Double-click on the current page name to rename the page: !np-pages-6.png! ## Duplicate or Delete Page You can easily Duplicate and Delete the page as well as access the Page Settings as shown below. It is also an alternative way to Edit or Rename any of created pages: !np-pages-7.png! ## Import Block In Page Context Menu You can use the Import Block operation from to the Page's Context Menu, so when there are no Blocks on a Page, you can import a Block without adding an extra Block. !import-block-in-page-context-menu.png! ##