Summary
Overview
Important Notes
Publish & Export Dialog
HTML Export Options


Export As Folder
Export As ZIP
Export Via FTP

Folder URL Format
Include Blog Posts
Preview HTML Website
Overview
You can export your Nicepage Project as a static HTML Website using the Nicepage Applications or Online Editor. After the Export, you can upload the HTML code to a hosting or send it to your customers.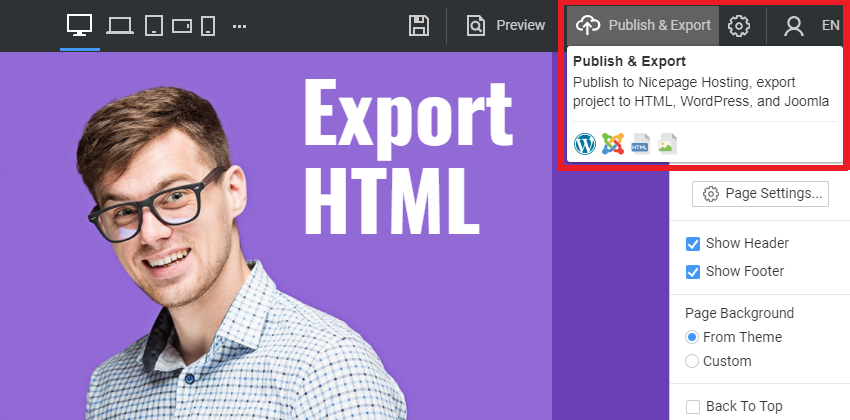 On the Top Bar, click the Publish & Export button to open the dialog to export your HTML website.
Important Notes
Please read the following important notes before exporting your HTML site.
Nicepage exports all HTML, CSS, and JS files and a subfolder with the site's Images required for your website.
Nicepage also generates the 'index.html' file as a copy of your website's first page.
The 'index.html' is required by some hostings to show the start page of your site.
The exported HTML does not contain Blog and Post Templates.
The Blog and Post Templates are only exported for Joomla and WordPress themes.
HTML Export Options
Choose the HTML as the Export To and one of the following options to export your website's HTML.
The Folder is the default option for the Export of the HTML code.
You can also export your website's HTML as a ZIP file.
Or upload your HTML site via FTP.
Export As Folder
If you export your HTML into a folder, please do the following.
Open the Publish & Export dialog.
Enter the Folder Name.
Select the Path if needed.
Click the Export HTML button.
Export As ZIP
If you export your HTML website as ZIP, you can do the following.
Upload the ZIP to your server's public directory (www, htdocs, etc.) using any file uploading software.
Unpack the ZIP at the destination Folder.
Use the Path to the home.html to preview the upload.
Set your website domain to the folder with your site's HTML.
Export Via FTP
You can do the following if you export your HTML website via FTP.
Add the server FTP credentials.
Specify the Remote Directory for the HTML upload.
Include Blog Posts
If you create a Blog on an HTML website, you have to check the Include Blog Posts checkbox in the Publish and Export dialog.
Folder URL Format
The Folder URL Format option allows you to specify the site pages as Relative or From Root.

Preview HTML Website
To preview your HTML website, you can do the following.
Open the Export Folder.
Locate and click on the index.html in the folder.
Preview your HTML site in your default browser.
## Summary - Overview - Important Notes - Publish & Export Dialog - HTML Export Options - Export As Folder - Export As ZIP - Export Via FTP - Folder URL Format - Include Blog Posts - Preview HTML Website ## Overview You can export your Nicepage Project as a static **HTML Website** using the Nicepage Applications or Online Editor. After the Export, you can upload the HTML code to a hosting or send it to your customers. !editor-export.png! On the Top Bar, click the **Publish & Export** button to open the dialog to export your HTML website. !html-export.png! ## Important Notes Please read the following **important notes** before exporting your HTML site. 1. Nicepage exports all **HTML**, **CSS**, and **JS** files and a subfolder with the site's **Images** required for your website. 2. Nicepage also generates the '**index.html**' file as a copy of your website's first page. 3. The '**index.html**' is required by some hostings to show the start page of your site. 4. The exported HTML does not contain **Blog** and **Post Templates**. 5. The **Blog** and **Post Templates** are only exported for Joomla and WordPress themes. ## HTML Export Options Choose the **HTML** as the Export To and one of the following options to export your website's HTML. 1. The **Folder** is the default option for the Export of the HTML code. 2. You can also export your website's HTML as a **ZIP** file. 3. Or upload your HTML site via **FTP**. ## !html-export-options.png! ### Export As Folder If you export your HTML into a folder, please do the following. 1. Open the **Publish & Export** dialog. 2. Enter the **Folder Name**. 3. Select the **Path** if needed. 4. Click the **Export HTML** button. ### Export As ZIP If you export your HTML website as ZIP, you can do the following. 1. Upload the ZIP to your server's public directory (www, htdocs, etc.) using any file uploading software. 2. Unpack the ZIP at the destination Folder. 3. Use the **Path** to the **home.html** to preview the upload. 4. Set your website domain to the folder with your site's HTML. ### Export Via FTP You can do the following if you export your HTML website via FTP. 1. Add the server FTP credentials. 2. Specify the Remote Directory for the HTML upload. ## Include Blog Posts If you create a [Blog on an HTML website](page:131306), you have to check the **Include Blog Posts** checkbox in the Publish and Export dialog. ## Folder URL Format The Folder URL Format option allows you to specify the site pages as **Relative** or **From Root**. !folder-format.png! ## Preview HTML Website To preview your HTML website, you can do the following. 1. Open the **Export Folder**. 2. Locate and click on the **index.html** in the folder. 3. Preview your HTML site in your default browser. ##