In Joomla, you can place and use modules in four different ways.
Position in Blog and Post Sidebar with App
In this tutorial, you will learn how to add a Position in the Sidebar on the Joomla Blog and Post Templates with the Nicepage Application.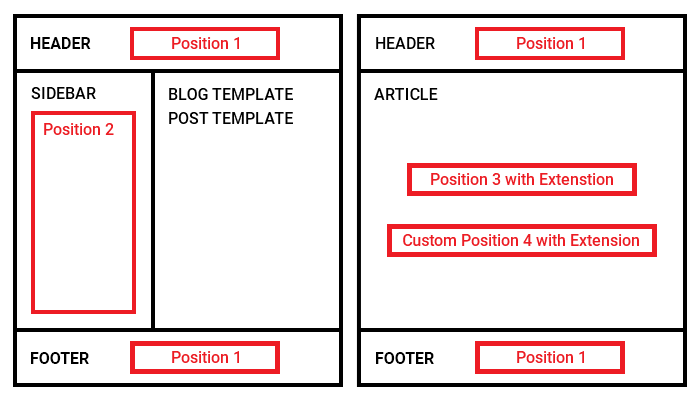 Blog pages can have a Sidebar. In Joomla, there are the BLOG and POST Templates used to output the Blog Content. The process of adding a Sidebar to the BLOG and POST Templates is similar.
Exporting a Template with the Sidebar
Run the Nicepage Application for Windows or Mac OS.
Open or create a Project.
Select Theme -> Blog Template.
Enable the Sidebar for the Blog Page in the Property Panel,
Change the Sidebar from Left to Right.
You can style the Sidebar Content.
Select the Block Header
Make it Uppercase and Centered.
Click Save.
Click Export.
Please watch the video about the Export for more information.
Importing a Template to Joomla
Open your Joomla Administrator in the browser.
Select Extensions -> Manage -> Install
Drag or browse for the Template zip file.
The Template is installed automatically.
Click Extensions -> Templates.
Make the imported Template default.
Modules in the Sidebar
By default, the Sidebar Content is output to the Position "position-sidebar".
Select Extensions -> Modules.
Click the Search Tools button to open the Filter.
Open the Select Position list.
Enter "position-sidebar" in the field or scroll the list.
You should see three Modules with the default Nicepage content on your Joomla Sidebar.
Previewing the Website
Click the Joomla Website link to the top right.
You should see the default Nicepage content on your Joomla Sidebar.
Summary
You have learned:
How to enable the Sidebar on the BLOG and POST Templates in Joomla.
How to use the Joomla Modules on the Sidebar.
<div class="video-container"><iframe width="740" height="418" src="//www.youtube.com/embed/-8ZGfq0tFvs?rel=0" frameborder="0" allowfullscreen></iframe></div> # In Joomla, you can place and use modules in four different ways. 1. [Position in Header and Footer with App](page:77605) 2. Position in Blog and Post Sidebar with App 3. [Position in Content with Extension](page:76324) 4. [Custom Position in Content with Extension and Joomla](page:76096) In this tutorial, you will learn how to add a Position in the Sidebar on the Joomla Blog and Post Templates with the Nicepage Application. # !positions.png! Blog pages can have a Sidebar. In Joomla, there are the BLOG and POST Templates used to output the Blog Content. The process of adding a Sidebar to the BLOG and POST Templates is similar. ## Exporting a Template with the Sidebar 1. Run the Nicepage Application for Windows or Mac OS. 2. Open or create a Project. 3. Select Theme -> Blog Template. 4. Enable the Sidebar for the Blog Page in the Property Panel, 5. Change the Sidebar from Left to Right. 6. You can style the Sidebar Content. 7. Select the Block Header 8. Make it Uppercase and Centered. 9. Click Save. 10. Click Export. Please watch the video about the Export for more information. ## Importing a Template to Joomla 1. Open your Joomla Administrator in the browser. 2. Select Extensions -> Manage -> Install 3. Drag or browse for the Template zip file. 4. The Template is installed automatically. 5. Click Extensions -> Templates. 6. Make the imported Template default. ## Modules in the Sidebar By default, the Sidebar Content is output to the Position "position-sidebar". 1. Select Extensions -> Modules. 2. Click the Search Tools button to open the Filter. 3. Open the Select Position list. 4. Enter "position-sidebar" in the field or scroll the list. 5. You should see three Modules with the default Nicepage content on your Joomla Sidebar. ## Previewing the Website 1. Click the Joomla Website link to the top right. 2. You should see the default Nicepage content on your Joomla Sidebar. ## Summary You have learned: 1. How to enable the Sidebar on the BLOG and POST Templates in Joomla. 2. How to use the Joomla Modules on the Sidebar. <br>