Summary
Overview
Video Tutorial
Download WordPress Plugin
Install WordPress Plugin
Activate WordPress Plugin
Create A New Page
Check Plugin Version
Update WordPress Plugin
Overview
If you have an active WordPress theme on your website, you can use the Nicepage Plugin only to edit the page content on your hosted WordPress website.
Video Tutorial
NOTE: We are working on updating the videos. The following video tutorial was made with one of the previous versions.
Download WordPress Plugin
You can get Nicepage WordPress Plugin from the Nicepage Website.
Open your browser.
Go to www.nicepage.com/download.
Click on the Get WordPress Plugin button.
Download the Nicepage WordPress Plugin as ZIP.
Install WordPress Plugin
Please do the following to install the Nicepage WordPress Plugin.
Open your WordPress Administration.
Go to the Plugins section.
Click on the Add New button.
Click the "Upload Plugin" button.
Choose the downloaded ZIP file.
Click the "Install Now" button.
Activate WordPress Plugin
After the installation, you need to activate the Nicepage WordPress Plugin.
Click the Activate link.
You should see the new Nicepage section in the WordPress sidebar.
Activation starts with the Wizard.
You may skip this step with the content installation.
Create A New Page
On the last Wizard step, please do the following.
Click the Create Page button to create a new page.
In the New dialog, choose a premade page Design or start with Blank.
Edit the Page with the WordPress Editor Plugin.
Click the Save icon on the Top Bar to save your work.
Check Plugin Version
Open your last working Page, then click on the Help icon on the Quick Access Pane to check the installed version.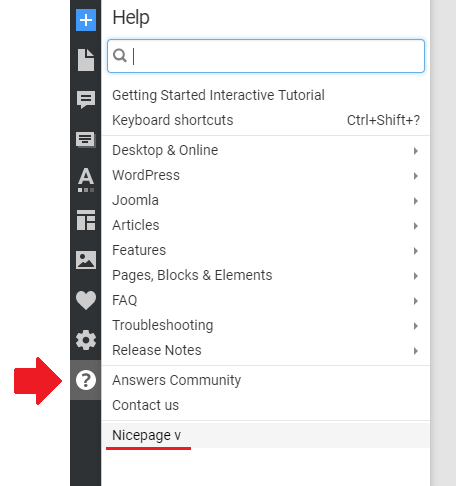 Update WordPress Plugin
You will get an automatic notification to update your installed Nicepage WordPress plugin.
Open the WordPress Administration.
Go to the Plugins section.
If there is a new version, you will see the note offering you to update the Plugin.
Click the Update link.
## Summary - Overview - Video Tutorial - Download WordPress Plugin - Install WordPress Plugin - Activate WordPress Plugin - Create A New Page - Check Plugin Version - Update WordPress Plugin ## Overview If you have an active WordPress theme on your website, you can use the Nicepage Plugin only to edit the page content on **your hosted WordPress website**. ## Video Tutorial **NOTE:** We are working on updating the videos. The following video tutorial was made with one of the previous versions. ## <iframe width="600" height="340" src="https://www.youtube.com/embed/n8bswfZ11rw" title="Install Nicepage WordPress Theme" frameborder="0" allow="accelerometer; autoplay; clipboard-write; encrypted-media; gyroscope; picture-in-picture" allowfullscreen></iframe> ## Download WordPress Plugin You can get Nicepage WordPress Plugin from the Nicepage Website. 1. Open your browser. 2. Go to [www.nicepage.com/download](/download). 3. Click on the **Get WordPress Plugin** button. 4. Download the **Nicepage WordPress Plugin** as ZIP. ## Install WordPress Plugin Please do the following to install the Nicepage WordPress Plugin. 1. Open your **WordPress Administration**. 2. Go to the **Plugins** section. 3. Click on the **Add New** button. 4. Click the "**Upload Plugin**" button. 5. Choose the downloaded **ZIP** file. 6. Click the "**Install Now**" button. ## Activate WordPress Plugin After the installation, you need to activate the Nicepage WordPress Plugin. 1. Click the **Activate** link. 2. You should see the new **Nicepage section** in the WordPress sidebar. 3. Activation starts with the **Wizard**. 4. You may skip this step with the content installation. ## Create A New Page On the last Wizard step, please do the following. 1. Click the **Create Page** button to create a new page. 2. In the New dialog, choose a premade page **Design** or start with **Blank**. 3. **Edit the Page** with the WordPress Editor Plugin. 4. Click the **Save** icon on the Top Bar to save your work. ## Check Plugin Version Open your last working **Page**, then click on the Help icon on the Quick Access Pane to check the installed version. !check-nicepage-version.png! ## Update WordPress Plugin You will get an automatic notification to update your installed Nicepage WordPress plugin. 1. Open the **WordPress Administration**. 2. Go to the **Plugins** section. 3. If there is a new version, you will see the note offering you to update the Plugin. 4. Click the **Update** link. ##