Summary
Overview


Blog Template for WordPress and Joomla
Blog Template for HTML

Blog Template In Theme List
Adding Elements to Blog Template
Blog Presets
Multi-Column Blog Template
Pagination
Exporting Blog Template
Previewing Blog
Blog Template Overview
Use the Blog template to customize the look of Blog layout pages on your websites.
The Blog Template is part of the Theme, and therefore you can modify it only with the Nicepage Application for Windows or Mac OS. You cannot edit this Template in WordPress or Joomla.
Blog Template for WordPress and Joomla
This template will be used on the blog layout pages after you export and install the Nicepage Theme. Blog Template is used on pages that show Posts in WordPress or Articles in Joomla.
In WordPress, this is a Frontpage displaying the latest Posts or Posts page, Tags, etc.
In Joomla, these are articles with Category Blog and Featured Articles Menu Item types.
Blog Template for HTML
For HTML websites, the Blog template is applied to the Blog page.
Read more about Post template used to design the look of Post pages on your websites.
Blog Template In Theme Menu
You can find the Blog Template on the Topbar in the Theme Menu.
Adding Elements to Blog Template
Blog template contains the Blog Posts Control, and you can add a new Element to this Control by clicking the Context Plus icon for the selected Post.
It will automatically add the same Element to all other items.
Blog Presets
You can change the Blog Styles for the Blog Template.

Also, you can use the same Styles for the Blog Posts Element on a Page Block.
Multi-Column Blog Template
Create the Multi-Column layouts for your Blogs.
Pagination
You can enable the Pagination on the Blog Template.
Exporting Blog Template
You can export the Blog Template with your Theme.
Previewing Blog
After installing the WordPress Theme or Joomla Template, open the Blog on your website to see the Blog Template's output.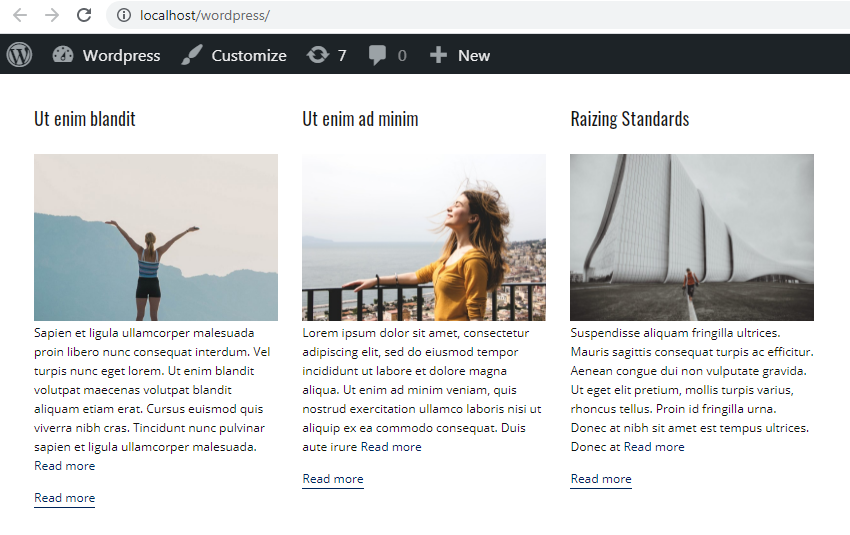 ## Summary - Overview - Blog Template for WordPress and Joomla - Blog Template for HTML - Blog Template In Theme List - Adding Elements to Blog Template - Blog Presets - Multi-Column Blog Template - Pagination - Exporting Blog Template - Previewing Blog ## Blog Template Overview Use the Blog template to customize the look of Blog layout pages on your websites. The Blog Template is part of the Theme, and therefore you can modify it only with the Nicepage Application for Windows or Mac OS. You cannot edit this Template in WordPress or Joomla. !blog-template.png! ### Blog Template for WordPress and Joomla This template will be used on the blog layout pages after you export and install the Nicepage Theme. Blog Template is used on pages that show Posts in WordPress or Articles in Joomla. In WordPress, this is a Frontpage displaying the latest Posts or Posts page, Tags, etc. In Joomla, these are articles with Category Blog and Featured Articles Menu Item types. !blog-page.png! ### Blog Template for HTML For HTML websites, the Blog template is applied to the Blog page. !html-blog-browser.png! Read more about [Post template](page:119180) used to design the look of Post pages on your websites. ## Blog Template In Theme Menu You can find the Blog Template on the Topbar in the Theme Menu. !blog-template-in-theme.png! ## Adding Elements to Blog Template Blog template contains the [Blog Posts](page:83207) Control, and you can add a new Element to this Control by clicking the Context Plus icon for the selected Post. It will automatically add the same Element to all other items. !adding-element-to-blog-post.png! ## Blog Presets You can change the Blog Styles for the Blog Template. !blog-template-styles.png! Also, you can use the same Styles for the [Blog Posts](page:83207) Element on a Page Block. ## Multi-Column Blog Template Create the Multi-Column layouts for your Blogs. !multi-column-blog-template.png! ## Pagination You can enable the Pagination on the Blog Template. [Read more about Pagination](page:131347) !pagination.png! ## Exporting Blog Template You can export the Blog Template with your Theme. !export-dialog-blog-template.png! ## Previewing Blog After installing the WordPress Theme or Joomla Template, open the Blog on your website to see the Blog Template's output. !export-blog-template.png! ##