You have purchased the Nicepage license. However, you have not activated it and see the following message in the dialog.

Solution
Make sure that you are logged under the same email address you used to register at [nicepage.com]http://www.nicepage.com) and purchase the Nicepage Premium.
Sign in on nicepage.com with the same email address and check your Profile >> Licenses.
If you cannot find the proper email address, please contact support.

Sign Out in the Nicepage Desktop application or CMS Editor and then Sign in again using the email address you used to purchase the Nicepage license.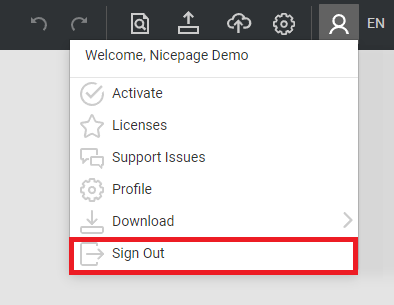 You have purchased the Nicepage license. However, you have not activated it and see the following message in the dialog. !cannot-activate.png! ## Solution Make sure that you are logged under the same email address you used to register at [nicepage.com]http://www.nicepage.com) and purchase the Nicepage Premium. Sign in on [nicepage.com](http://www.nicepage.com) with the same email address and check your Profile >> Licenses. If you cannot find the proper email address, please [contact support](https://nicepage.com/forum/topic/create?private=1). !site-login.png! Sign Out in the Nicepage Desktop application or CMS Editor and then Sign in again using the email address you used to purchase the Nicepage license. !sign-out.png! ##